Table of Contents
Shipping Notice – Canadian Residents
Post Office Service Alert Regarding COVID-19
International Mailing Disruptions
IMPORTANT! Shipping to Mexico
–

Any package shipped to Canada is subject to duties,taxes and tariffs IN ADDITION TO THE POSTAGE COST.
Due to the fact that these prices vary upon arrival to customs, they cannot be included in the final postage cost on our website. For more information, read below.
Duties, Taxes and Tariffs
As with most countries, Canada applies duties, taxes and tariffs enforced on imported goods. To avoid unpleasant surprises at the time of delivery, it is important to communicate these additional fees to your customers at checkout.
Goods and Services Tax – There are 3 kinds of duties and taxes for items being imported into Canada. First, the Goods and Services Tax (GST) is a 5% federal tax that applies to items being sold to Canadian customers for domestic consumption. Second, the Harmonized Tax (HST) is imposed by a handful of Canadian provinces to combines their provincial sales tax and the general sales tax. Finally, the Provincial Sales Tax (PST) is enforced in provinces that do not participate in the HST collection process. The PST rate varies by province and ranges from 5% to 9.75%.
Tariffs In addition to duties and taxes, your Canadian customer may need to pay tariffs. Tariffs are dependent on where the product was made, not the country where the product is purchased. NAFTA eliminates tariffs on all goods made in the U.S. and shipped to Canada. However, if your product includes anything that was made outside the U.S., then your Canadian customer will have to pay tariffs on those components.
Source: https://www.stamps.com/usps/shipping-to-canada/
–

Currently, we have been experienceing delays with ingoing and outgoing mail due to the COVID-19 situation.
We apologize for the inconvenience. For more information from the United states Postal Service, read below:
SERVICE ALERT FROM USPS
The United States Postal Service is closely monitoring the Coronavirus Disease 2019 (COVID-19) situation and continues to follow strategies and measures recommended by the Centers for Disease Control and Prevention (CDC) and public health departments. The CDC has information available on its website at https://www.coronavirus.gov that provides the latest information about COVID-19. We are sharing the CDC's guidance to our employees via stand-up talks, employee news articles, messages on bulletin boards, videos and an intranet site directly to employees and within USPS workplaces.
The CDC (https://www.cdc.gov/coronavirus/2019-ncov/faq.html), the World Health Organization (https://www.who.int/news-room/q-a-detail/q-a-coronaviruses), and the Surgeon General have indicated that there is currently no evidence that COVID-19 is being spread through the mail.
The Postal Service has so far experienced only minor operational impacts in the United States as a result of the COVID-19 pandemic. We do continue to have a temporary suspension of the guarantee on Priority Mail Express International destined for China and Hong Kong, which has been effective since Monday, Feb. 10, 2020, due to widespread airline cancellations and restrictions into this area. In addition, customers may see delays in mail and packages destined to China as well as from China, as well as to and from European countries subject to restricted passenger airline travel. The Postal Service is undertaking all reasonable measures to minimize the impact to our customers.
In addition, the Postal Service is an essential service for purposes of its compliance with state or municipality shelter-in-place orders or other social distancing restrictions. The Postal Service delivers medications, social security checks, and is the leading delivery service for on-line purchases. The statute that created the Postal Service begins with the following sentence. "The United States Postal Service shall be operated as a basic and fundamental service provided to the people by the Government of the United States, authorized by the Constitution, created by an Act of Congress, and supported by the people." 39 U.S.C. §101(a).
Sources: [ 1 ] https://about.usps.com/newsroom/statements/usps-statement-on-coronavirus.htm
[2] https://about.usps.com/newsroom/service-alerts/
–

The Post Office is temporarily suspending international mail acceptance for certain destinations due to the impact of COVID-19

Below is a list of countries affected by this suspension: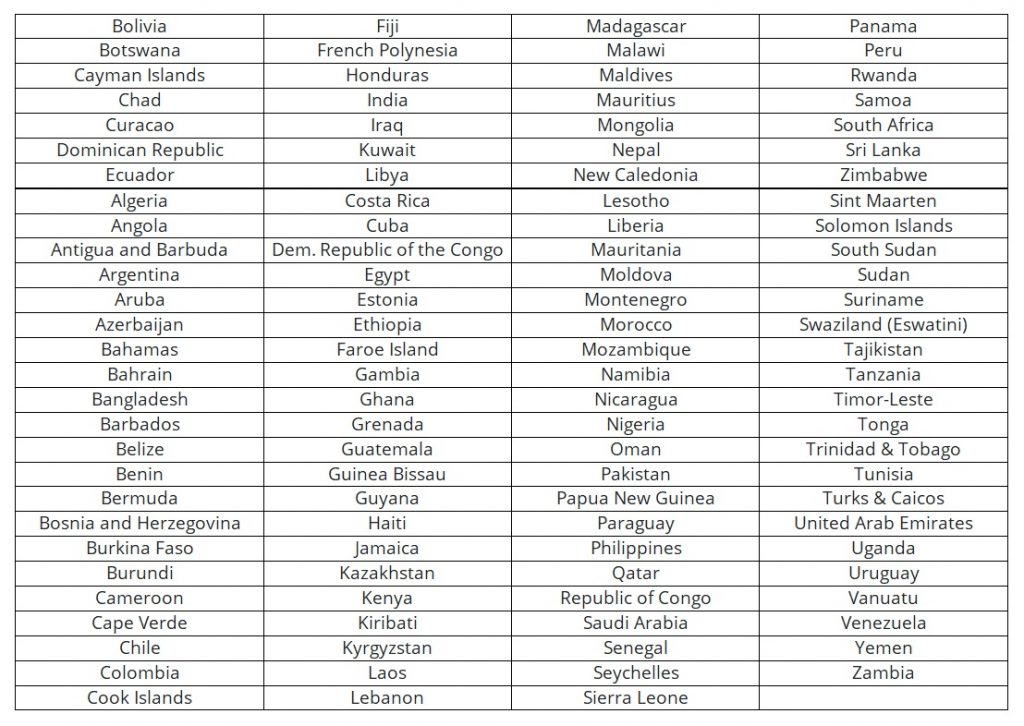 For more information regarding this situation, visit:
https://about.usps.com/newsroom/service-alerts/international/welcome.htm
We, the seller, will not assume responsibility nor initiate a refund once the package leaves the
United States and into International territories.
–

All Supplements and Vitamins being shipped to consumers living in Mexico may require approval from COFEPRIS upon arrival.
COFEPRIS is the official Mexican Health Authority. COFEPRIS stands for, in Spanish, COmisión FEderal para la Protección contra RIesgos Sanitarios, (English translation: The Federal Commission for Protection against Sanitary Risk).
All Supplements and Vitamins being shipped to consumers living in Mexico may be subject to inspection by COFEPRIS upon arrival. Depending on the current regulations of COFEPRIS, the shipped Supplements/Vitamins run the risk of seizure, in which case the consumer will need to go through their local Mexican Post Office to obtain the shipped item. We, the seller, will not assume responsibility nor initiate a refund once the package leaves the United States and into Mexican territories.

For Additional Information on the subject, Click here

Todos los suplementos y vitaminas que se envíen a los consumidores que viven en México requerirán la aprobación de COFEPRIS a su llegada. COFEPRIS es la autoridad oficial de salud mexicana. COFEPRIS significa, COmisión FEderal para la Protección contra RIesgos Sanitarios.

Todos los suplementos y vitaminas que se envíen a los consumidores que viven en México estarán sujetos a inspección por parte de COFEPRIS a su llegada. Dependiendo de las regulaciones actuales de COFEPRIS, los Suplementos / Vitaminas enviados corren el riesgo de ser incautados, en cuyo caso el consumidor deberá pasar por su oficina de correos mexicana local para obtener el artículo enviado. Nosotros, el vendedor, no podemos asumir responsabilidad ni iniciar un reembolso una vez que el paquete salga de los Estados Unidos y se dirija a los territorios mexicanos.

Para obtener información adicional sobre el tema, haga clic aquí (ingles)